Friday, June 17, 2011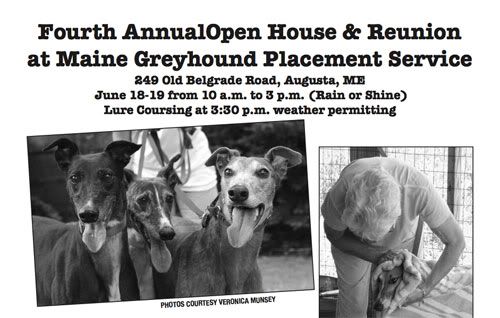 Hey Everyone! We're all psyched for this weekend's
Greyhound Placement Servic
e event up in Augusta this weekend. Hope to see you there!
Tuesday, June 14, 2011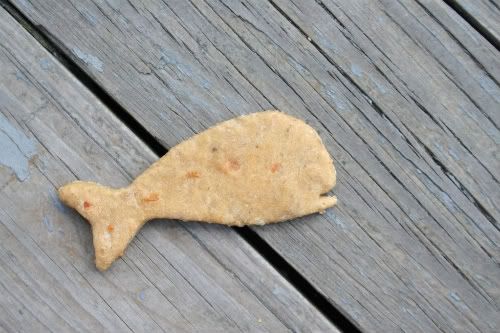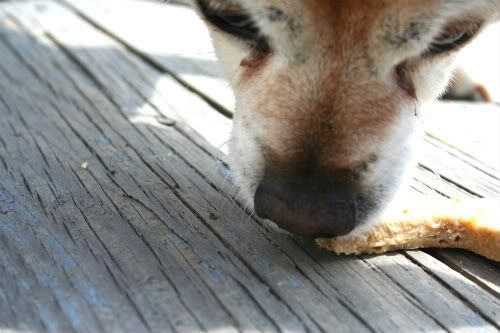 Ahoy Mateys! We've found another dog treat keeper her at Classic Hound Headquarters! This time, I turned to
Allrecipes for a little inspiration
. As you can see the doggies LOVED them. Abby will snatch up these whale sized treats gently in her mouth, and cleverly hides them somewhere safe until she can get to them later. It's like these little whales are her puppies she fusses over them so.
Recipe notes: I used Better than Bullion instead of beef bullion and substituted honey for the white sugar.
Ingredients
1 cup rolled oats
1/3 cup margarine
1 cup boiling water
3/4 cup cornmeal
2 teaspoons white sugar
2 teaspoons beef bouillon granules
1/2 cup milk
1 cup shredded Cheddar cheese
1 egg, beaten
3 cups whole wheat flour
Directions
Preheat oven to 325 degrees F (165 degrees C). In a large bowl, combine rolled oats, margarine, and boiling water. Let stand 10 minutes. Grease cookie sheets.

Thoroughly stir in cornmeal, sugar, bouillon, milk, Cheddar cheese, and egg. Mix in flour, 1 cup at a time, until a stiff dough has formed.

Knead dough on a lightly floured surface, mixing in additional flour as necessary until dough is smooth and no longer sticky. Roll or pat out dough to 1/2" thickness. Cut with cookie cutter (I prefer bone shaped), and place 1 inch apart onto the prepared cookie sheets.

Bake 35 to 45 minutes in the preheated oven, until golden brown. Cool before serving. Store in a loosely covered container.