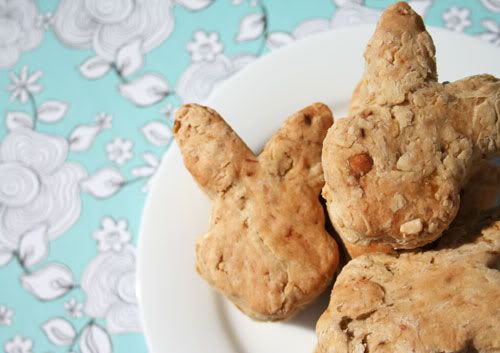 Perhaps the Easter bunny shouldn't come to our house this year. Abby & Dewey are crunching it up here on these yummy Banana Biscotti Bunnies. We all know how
doggies like to chase rabbits
, I'm not sure that any rabbit (or hare for that matter) would escape from my two dogs at the moment. These crunchy treats are a hit!
1/2 cup peanuts, chopped

½ teaspoon baking soda

1 egg

¼ cup vegetable oil

1 ½ cups banana, pureed

2 teaspoons vanilla

*water (about 5 Tablespoons)

Preheat oven to 325F.

Place dry ingredients in large bowl.

Make a well in the center.

Blend egg, oil and banana together. Add into the dry ingredinets in well. Start combining together. Add water, one teaspoon at a time as needed. Knead by hand on table until mixed thoroughly.

Roll out until doug is about 1" high and use a cookie cutter to punch out the bunnies.

Place on non-stick baking sheets or lightly greased ones. Bake 30 - 40 minutes. Remove and cool for 10 minutes. Slice into 1/2" - 3/4" slices. Place on baking sheets and bake for about 20 minutes or until golden brown. Cool. Store in airtight container.