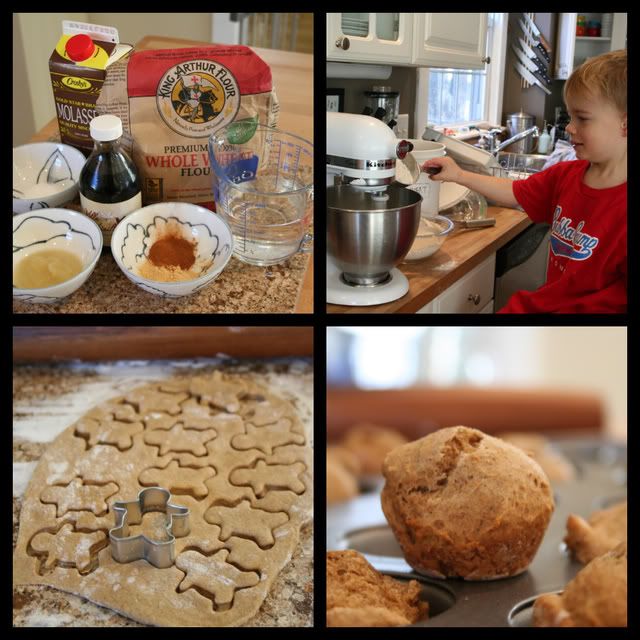 Little Dude and I made these delicious & cute little Gingerbread
Treats from It's A Vegan Dog's Life
today for all our Collar Club members. Vegan Dog's Life even has a vegan
recipe book
that's worth checking out! They were tasty (yes, we tried them too) and would give a high recommendation to anyone who'd like to gift the dog in their life with this delicious and healthy doggie treat!
2 cups flour
1 tsp. baking soda
1 Tbsp. ground flax
1 tsp. cinnamon
1 Tbsp. hulled hemp seeds (optional)
2 tsp. ginger
1 tsp. vanilla extract
2 Tbsp. applesauce
¼ cup blackstrap molasses or agave nectar
1 ¼ cups water

Preheat oven to 350 degrees. Spray mini muffin pans with non-stick spray.
In a large bowl, combine flour, flax, baking soda, hemp seeds, cinnamon and ginger. Add applesauce, vanilla, molasses and water, mixing well. Scoop batter into the muffin pans and bake for 30 minutes. (
we only baked for about 5 minutes because we used a mini-muffin pan
). Remove and let cool completely before serving. Store in the fridge.
We tried the Cookie variation, and they were quite puffy and sooooo cute! They really seemed like the perfect marriage between a cookie and a muffin.
Cookies- Add ¼ cup of flour at a time until dough is firm enough to form into balls. Place dough balls on a greased cookie sheet and press flat with your hand or a fork. Bake until crispy.
We obviously rolled out the dough and used our favorite little gingerbread man and doggie bone cookie cutters
.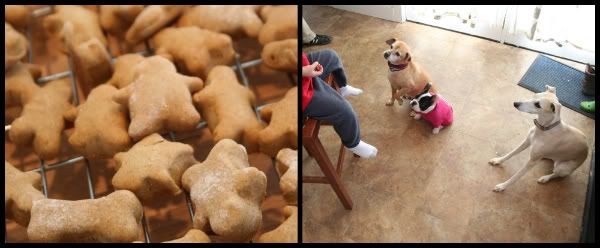 We do have some leftovers which we've decided to put into all the orders we can until we run out. :-)
=========================================================
Now, drum roll please! The winner of our
matching collar and belt contest
is . . .
Rhonda Gold!


Thank you everyone for participating! We'll be having more contests so stay tuned.