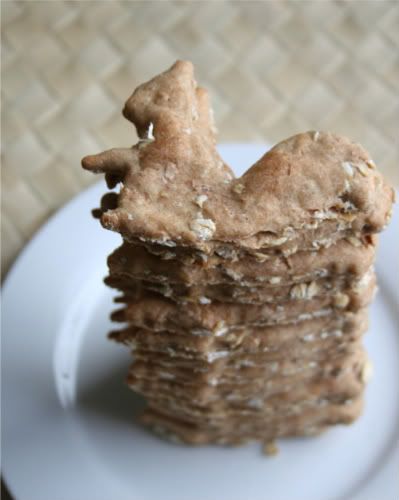 These peanut butter & oat squirrels (AKA
Doggy Dessert Chef's Peamutt Butter Treats
) were definitely fun to make. The recipe is fast and easy and Abby and Dewey snarfed up these little squirrels like nobody's business.
You know
we're big fans of squirrels
over here. Well, I suppose the little furry guys are more of a
frenemy
, than anything. They're
totally
cute, but
totally
overpopulated. Last summer the squirrels in Albany were
totally
way too sneaky with my vegetable garden. The dogs LOVE them but HATE them at the same time too. If you live with a dog (or two, or three, or...) you know exactly what I mean.
So have fun baking a batch of these treats, and then letting your dog's chomp them to bits.
Ingredients
1/4 cup Peanut Butter
1 tablespoon Vegetable Oil
1 cup Water
2 1/4 cups Whole Wheat Flour
1 cup Oatmeal
Directions
Preheat oven to 375 degrees fahrenheit.
Combine peanut butter, oil and water in a large bowl. Once mixed slowly add whole wheat flour and then oatmeal. Roll dough out 1/4 inch thick and cut with cookie cutter. Bake on ungreased cookie sheet for 20 to 35 minutes or until edges begin to brown.
Cool and refrigerate.
Adapted from The Doggy Bone Cookbook by Michele Bledsoe
Courtesy of Doggy Dessert Chef.